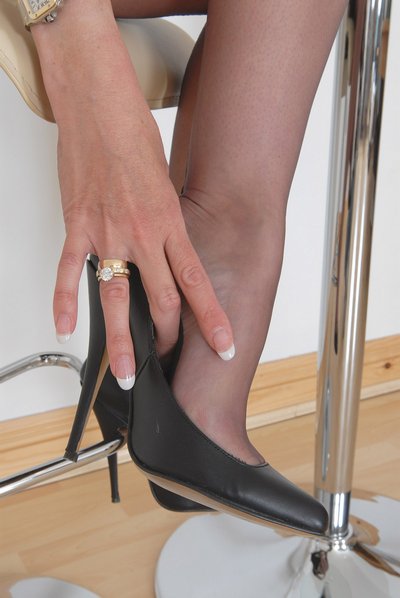 She looked at her watch for perhaps the tenth time in an hour. No matter how many times she checked the result was the
same: she was early, very early. Angela Dugas still had about 20 minutes until her job interview. She had spent the past
half hour wandering the downtown area of Seattle, impatient to begin her interview.
Angela had flown in to the city the
night before, getting some sleep and some good food before this morning. Now she was primed and ready for a meeting which
would probably result in her obtaining a job that increase her salary twofold, as well as provide her with the sort of
meaningful career she had searched for since graduation.
She was figuratively dressed to kill. Her tanned and Tai-Bo tuned
body was wrapped in a dark grey suit/skirt, Victoria's Secret nylon stockings and black three inch Two Lips pumps. Her long
blonde hair was pulled up into a tight bun, her makeup conservatively applied, and she wore contacts instead of glasses. The
stockings were a concession to her more wild side. She normally reserved such hoisery for dates, but this was an important
occasion and she wanted to look assertive, confident and sexy.
Based on the looks she was getting as she strolled down the
sidewalk, she had succeeded. Her pumps clicked out a firm and steady rythym as she moved towards the high rise where her
potential employer was housed. The sky was beginning to darken and traffic was picking up as lunchtime approached. Angela
checked behind her, a girl can't be too careful, but saw only the normal pedestrian masses she was used to seeing in
Houston. She did notice the street sweeper coming up fast, and she began to move to the inside of the sidewalk, away from the
street.
Then it happened, something with such perfect choreography that you wouldn't expect to see it outside of a Hollywood
production. Shouts and curses behind Angela made her turn. Her eyes took in a large pale man clad in denim sprinting down
the sidewalk towards her, slamming his shoulders into slow and startled pedestrians with brutal force. Behind him were two
equally large Seattle PD uniformed officers. The loud roar of the engine and brooms of the streetsweeper filled Angela's ears
as she quickly spun around to try and avoid the violent chase. She went almost face first into a street sign, and reflexively
wrapped her arms around it as the momentum of her lunge carried her forward. Angela's legs kicked out, trying to find
purchase, and her heels hit the top of the curb in front of her.
The street sweeper was almost right next to her, and Angela
gasped as she jerked her feet back to avoid them being caught in the brooms that swirled dangerously close. Unfortunately,
Angela had pulled her legs straight back, thus guaranteeing that the heels of her pumps would remain anchored on the top of
the curb, and only her nylon covered feet would move out of the way3. Now empty, Angela's pumps fell into the path of the
streetsweeper. Although her body was now safe, Angela watched in utter disbelief as her empty black pumps were caught up in
the mechanical tempest of the streetsweepers brooms. The large vehicle lumbered off down the lane as Angela turned her head
to follow it, wide eyed and with her jaw hanging open.
"Oh shit, my shoes!" She finally screeched. Recovering quickly,
Angela ingnored the pedestrians around her who had stopped for the police chase, now a block away. They looked curiously at
the young blonde businesswoman who now began sprinting down the sidewalk herself in her stockinged feet. After only 20 yards
Angela realized that it was lost race. There was no way she could catch the streetsweeper, and even if she did her pumps were
probably ruined.
Now she stood on the streetcorner, 15 minutes away from the job interview of her life, and she was
shoeless. Angela's head swiveled desperately as she searched for a clothing store or a shoe shop nearby. No luck, only
offices and trendy gourmet coffee houses were in sight. There was no time to hail a cab, and Angela felt the beginnings of
panic well up in the back of her throat.
She fought the urge and clenched her fists to remain in control. Then she calmly
began to walk towards her destination. It was crowded out, so few paid any attention to the shoeless businesswoman.
"Just
tell them the truth." She thought, "As if they'll believe this story!" Angela had no choice, she was out of time.
And so,
the buxom blonde walked into the office building as confidently as she could, the marble like floor cool and slippery against
her nylon covered soles. The rent-a-cop at the security desk performed his task of printing her an ID badge in the same jaded
way of hired security everywhere. He did not notice Angela's shoeless state. But others did. She received curious, amused
and lusty once-overs from all the men who passed her. The women seemed either envious or disapproving.
She ducked into the
ladies room to check her her face and straighten her clothes. Luckily her collision with the street sign had not stained her
suit, and her face was still in once piece. Angela knew she would have to tough this one out, and so ignored the stares of
others as she left the bathroom and entered the nearest elevator. She heard a "clop-clop" behind her and turned to see
another young woman picking up her pumps from the floor. The woman turned to her male companion and said, "Well I'm not gonna
wear mine either." Angela and the girl exchanged smiles.
"I'm glad I won't be the only one." Angela thought to
herself.
Finally the elevator reached the 15th floor, and Angela entered a plush reception area with tasteful but subdued
lighting. The soft, deep carpet was a welcome feel under her feet after the warm, rough sidewalk and cold main entrance
floors. She approached the reception area desk and noted the nameplate of the attractive young redhead manning the
desk: "Tonya Steiner".
Tonya took in Angela's appearance, noting the stockinged feet and lack of shoes in her hand. Tonya
self-conciously wiggled the toes of her own pantyhosed feet, which were bare underneath her desk. She glanced down to check
on her own three inch heeled white pumps, which lay kicked aside on the carpted floor. Tonya cocked an eyebrow at her and
said, "Hi, welcome to our offices, what can I do for you?"
"My name is Angela Dugas, I have an 11:30 interview with the
partners."
"Oh, yes, we were expecting you Angela. Have a seat and I'll let them know you're here." Tonya began using her
intercom as Angela turned to find a seat.
Angela sat down in a large and comfortable chair and crossed her legs. The nylons
were ruined. The reinforcements on the toes and heels both had runs, and she noticed a tear in the sole of one stocking when
she crossed her legs. "Better not do that again." She thought as she put both feet back on the floor.
"Hey, I don't mean
to pry but I'm wondering why you aren't wearing any shoes. This is a pretty important interview for you isn't it?" Angela
looked up at Tonya who regarded her with curious concern.
Angela felt her face redden, "I lost my pumps on the way here. I
was walking on the sidewalk..and well..you'd never believe me if I told you. I didn't have time to buy a new pair before the
interview."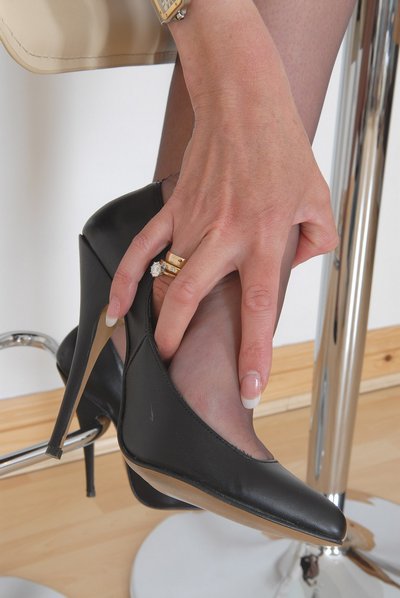 "Ohmigod you lost your shoes!?" Tonya exclaimed, reverting to her Valley Girl accent. Angela smiled weakly, but
Tonya was glancing from Angela's feet to her own empty pumps.
"What size shoe do you wear Angela?" She asked.
"Seven,
why?"
Tonya bent to retrieve her pumps from under the desk, and proudly showed them to Angela. "I wear a size six, do you
think you could squeeze into these for the interview? I know they don't really match your outfit but.."
Angela's face lit
up and she bolted out of the chair, "Yes, yes I can manage that for an hour!" She pulled up short and looked at Tonya with
gratitude and concern, "But what about you Tonya?"
Tonya smiled at batted her long eyelashes at the shoeless blonde. "Don't
worry hon, nothing ever happens up here. I hardly have to leave the desk, and I've got a bathroom right there," she gestured
to a well concealed door 15 feet away, "Besides, I'm usually barefoot the whole day and nobody notices." Tonya swiveled in
her seat and extended her legs to show off her small hosed feet with pink polished toenails almost glinting in the soft
light.
Somewhat envious of the younger girls smaller feet, Angela gratefully pushed her own feet into Tonya's white
pumps. It was tight fit indeed, but perhaps she could pop her heels free of the shoes if she could somehow conceal her feet
during the interview.
A nearby door opened and one of the partners emerged to greet Angela. As he led her into the other
room Angela turned her head and gave Tonya a thumbs-up, mouthing "Thank you." Tonya smiled and waved back.
As the door
shut, Tonya went back to her spreadsheets, typing away to try and finish her reports before the end of the day. Under the
desk she absently ran her feet back and forth across the carpet. She quietly enjoyed the the sensations as the soft fibers
gently tickled her senstive soles through the pantyhose. Tonya took good care of her feet so that they would stay
sensitive. She used a pumice stone regularly, and made her boyfriend rub lotion, among other liqiuds, on her feet each
night.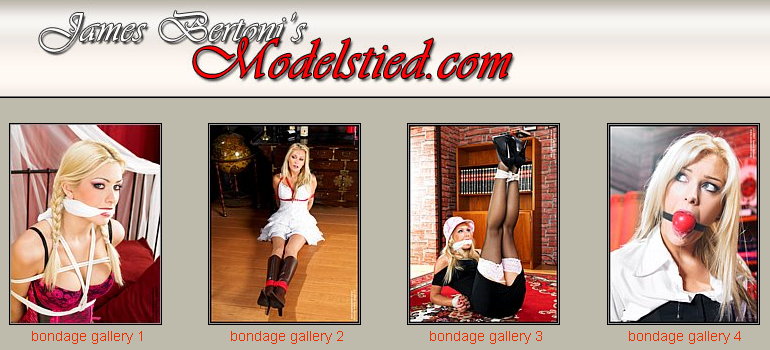 The insistent electronic tone of a ringing phone broke her trance, and she picked up the receiver, "Dewey, Cheatham
and Howe, this is Tonya speaking, how may I direct your call?"
"Hi Tonya it's Phil." Tonya relaxed, recognizing the voice
of one of the security guards downstairs.
"Tonya there's an Eyes Only Express package down here for Mr. Cheatham. It's
marked Confidential so you I need for you to come down here and sign for it."
"Uh-oh." Tonya thought, curling here nyloned
toes under the desk, "Just my effing luck." She knew that Mr. Cheatham was expecting this package and that she couldn' t keep
the express guy waiting. Besides, she was the only one in the office that day who was authorized to sign for packages. "I'll
be right down." She hung up the phone and activated the call-forwarding so that one of the admin staff could catch any
incoming calls.
She checked her face in a compact mirror before strolling out to the elevator. It wasn't that far and
besides, she was young and wasn't planning on working here forever. So what if some prude didn't like her going around in her
hosed feet? The elevator doors parted and there stood the last person Tonya wanted to see.
"Oh god it's Jack!" Tonya
thought in a moment of panic. She nevertheless smiled and entered the elevator, meeting the eyes of the guy she knew who
worked in Risk Management two floors up. "What's he going to think of me like this?"
"Hi Tonya." He said, somewhat amused
and looking at her feet. "Your feet hurt?"
"Something like that." She giggled, unconcsiously smoothing her short skirt as
she smiled at him. Her slowly wiggling toes kept his attention. The two had always flirted on the elevator, which is where
she regularly saw him.
"Sounds like you could use a foot massage." He met her gaze squarely, "Do you have lunch plans
today? I could rub your feet for you." His smile was warm but curled slightly into a smirk.
"Ohmigod he's asking me to
lunch!" She thought, giddy as a teenager and feeling a familiar warmth between her legs.
The floor bell rung and the doors
opened on 8, Jack stepped off and looked questioningly at her.
"Call me, if you can find my number." She replied teasingly
as the doors closed. Tonya knew he would if he really wanted to have lunch. "And then maybe I can rub something of yours
under the table too." She added silently. Her arousal was cut short as several people entered the elevator on the seventh
floor. Most didn't noice her condition, but two men stared at her shoeless feet, both catching themselves and turning away
from her, embarassed.
Tonya only smiled to herself as the doors finally opened. She walked out towards the security desk,
feeling the same cold and slippery sensations that Angela had felt walking in. She glanced out the front doors and saw the
darkness. A far off peal of thunder broke the sustained murmur of conversation in the lobby.
Tonya leaned against the
security desk, and shifted her weight to one foot, placing the sole of her one foot over the instep of the other. She felt
the tiny resistance as the stratchy nylons rubbed together.
"Phil, I'm here to get the package you called about."
The
security guard motioned for the express delivery man to come closer. As Tonya signed the man's clipboard she felt his eyes on
her feet. She was about to call his bluff when a godawfully loud klaxon alarm sounded in the lobby.
Everyone was startled
and stopped what they were doing to look up and around. The klaxon stopped and a voice came over the building PA
system. "May I have your attention please, there is a fire alarm on floor 15, please evacuate the building immediately and go
to your designated assembly point. May I have your attention please…" The message repeated, and Tonya whirled to see Phil
and another guard talking rapidly into their hand held radios.
Phil jumped up on the desk, "OK everybody outside, this is
not a drill, there is a fire in the building, let's go now!"
Tonya thought to herself, "This can't be happening, a fire on
MY floor, an evacuation, andd I don't have my shoes!" As she moved to the exits, Tonya could see that it was now raining
outside. "Auugghh!" She moaned in frustration. The crowd pushed through the doors and Tonya fought to avoid having her
stockinged feet stepped on in the rush.
Once outside she turned towards the parking lot that was her floor's designated
emergency assembly area. The rain was warm but she was still getting soaked. Tonya hardly bothered to avoid the puddles that
were already forming on the sidewalk. Her pantyhose were a write-off as her size sixes walked unwillingly along the hard
pavement. In the panic, no one noticed the shoeless receptionist, but Tonya was sure conscious of it as her feet started to
get cold.
Looking up at the building, Tonya saw smoke billowing out of windows on her floor and the one below it. She
momentarily forgot her discomfort and hoped that her friends were able to get out. Pulling her arms close in a self-hug,
Tonya heard and saw the emergency vehicles pulling up, disgorging firefighters who grabbed oxygen masks and axes, and charged
then into the building.
Voices called out among the crowd and Tonya heard a familiar one. It was one of the partners, and
he was gathering up employees like lost sheep. Tonya quickly made her way over to him on tiptoe, her feet now thoroughly
soaked. There were a few other attorneys and staff members present. Some were coughing but all appeared to be OK.
"Tonya,
are you injured?" Mr. Howe asked her.
"No, I'm fine, I was downstairs getting a package for you when the alarm went
off." She replied, wiping wet strands of hair from her face.
"Where are your shoes Tonya?" He asked. All eyes in the
group went down to see Tonya's bare pantyhosed feet. She blushed slightly and replied, "I uh, lost them in the rush to get
out."
Mr. Howe nodded and then brought the group closer together. He told them that Mr. Cheatham, some of the staff and the
new girl were being taken to the hospital for smoke inhalation. They were OK, but would be kept overnight for
observation.
Tonya pursed her lips, "Well I hope Angela's OK, but there goes my shoes." She turned her attention back to
Howe who told everyone to go home for the day, and that he'd call them tonight with instructions.
Cold, wet and shoeless,
Tonya Steiner turned away from the group to walk towards her parking garage two blocks away. She had a spare car key and some
cash in her cell phone holster, so she didn't really miss her purse, which had probably burned up in the fire. She needed a
towel, a warm bath and a stiff drink right now.
Lost in her own wet misery, she didn't notice the Subaru Outback which drove
up even with her on the street. She heard a familiar voice, this one much more welcome.
"Hey you, beautiful and
barefoot!"
Tonya smiled and looked over to see Jack behind the wheel of the Outback.
"Are we still on for lunch? I've
got plenty of hot food and uh, dry towels at my place."
She pulled her hair back and walked over to the open window, putting
her face close to his.
"You've got a date." She purred.
THE END…or is it?
Fetische sind eine normale und gesunde Art der sexuellen Ausrichtung. Es gibt viele verschiedene Arten von Fetischen, darunter Schuh- und Fußfetische. Diese Art von Fetischen können für Menschen sehr erregend sein und bieten eine Möglichkeit, ihre Sexualität auf eine neue und aufregende Weise zu entdecken.
Es gibt eine große Community von Menschen, die Schuh- und Fußfetische haben und sie leben oft ihre Fantasien und Wünsche durch verschiedene Formen von BDSM aus. Eine Möglichkeit, dies zu tun, ist durch das Tragen von High Heels und anderen besonderen Schuhen. Viele Menschen finden es erotisch, ihren Partner in High Heels zu sehen und das Gefühl von ihnen auf ihrer Haut zu spüren.
Diese Sammlung von von Lesern eingereichten wahren Geschichten, tatsächlichen Erfahrungen und Fiktionen zum Thema Fetisch, insbesondere Schuhfetisch und Fußfetisch, bietet einen Einblick in diese Welt. Es gibt Geschichten über Menschen, die ihre Fantasien und Wünsche leben, aber auch über Menschen, die mit ihren Fetischen zu kämpfen haben.
Es ist wichtig zu betonen, dass die Geschichten in dieser Sammlung von Menschen mit unterschiedlichen Erfahrungen und Perspektiven stammen. Einige von ihnen sind wahr, während andere fiktiv sind. Trotzdem können sie alle einen Einblick in die Welt des Fetischismus und insbesondere des Schuh- und Fußfetischismus geben.
Es ist wichtig, diese Geschichten zu respektieren und zu verstehen, dass jeder Mensch einzigartig ist und unterschiedliche Vorlieben und Interessen hat. Solange die Handlungen im gegenseitigen Einverständnis und mit Einhaltung der Grenzen erfolgen, ist es wichtig, die sexuellen Vorlieben und Wünsche anderer zu respektieren.