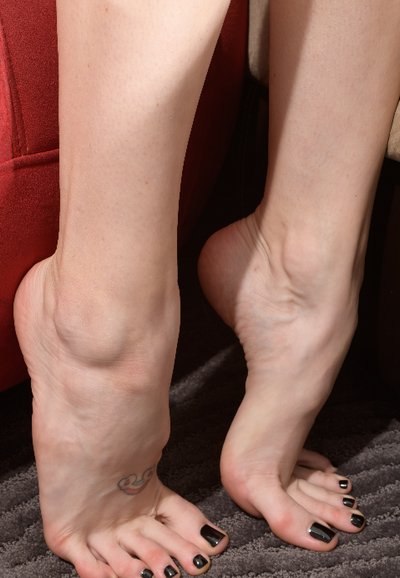 Tom was thinking of moving. He had been living with his best friend Jerry since they bought a house off
campus, and had lived quite happily for the first two years. But ever since Jerry's girlfriend Julia moved in, he felt quite
uncomfortable. It was his own fault. Jerry had asked if it was okay to have her move in, and Tom had given his
permission. But he was beginning to regret it. He had been friends with Julia for a long time, and had always had an
enormous crush on her. She was one year younger than the boys, at 19, she was an adorable blonde with a beautiful petite body
and the tiniest and cutest feet Tom had ever seen. He always hid his jealousy from Jerry, but he knew Julia was aware he was
attracted to her feet. She tried not to tease him by always wearing sneakers tightly around her feet in the house, but the
rest of her beautiful body and face was still enough to make him crazy for her. He knew something had to give soon, so he
knew he had to get out as soon as possible. Jerry was away for the weekend for the first time without Julia. Julia decided
to stay close to campus to study for her midterms. It was Tom and her alone in the big one floor house. The temptation was
unbearable.
It was already noon when Tom woke up. It was a colder winter morning than usual, but he was used to it by
now. He passed Jerry and Julia's room and heard her music playing quietly inside. Rather than interrupt her studies he
continued to the kitchen to make himself a bowl of Count Chocula. He sat there for a few minutes eating his cereal casually
when he heard Julia's soft footsteps approaching from the hallway. Julia stepped in looking as adorable as ever in a small
t-shirt, long bell-bottom jeans and her standard white platform keds that she wore around Tom.
"Good morning," she
said shivering.
"Good morning," Tom responded trying not to stare.
"Boy it's cold in here," she shivered, "you
think you can turn up the heat? It's hard to get any studying done at absolute zero."
"Sorry, Julia, but the
heater's broken, remember?"
"Damn, I forgot. I'd go to the library but it's probably colder out there."
"Don't
you have any warmer clothing?"
"I do, but it's still packed away in the attic. We haven't found a place for all my
clothes yet in Jerry's room."
"Why don't you go up and get it?"
"I'm a little scared of the dark," she said
adorably. "Besides, I don't even know how to get up there. Jerry put my stuff away."
"The entrance is on the
ceiling in Jerry's closet. I'll show you," he said getting up. After grabbing a flashlight from atop the refrigerator he
escorted shivering little Julia to Jerry's bedroom and opened up the closet door. He moved a stepladder from the corner of
the closet and climbed and removed a small panel in the ceiling. The ceiling was rather high, but quite reachable from the
stepladder, "Here we are," he said. "Want to come up with me?"
"No thanks," Julia said timidly. She was too cute to
be true. Tom pulled himself and began scanning the floor.
"How does it look," he asked.
"It's a brown
suitcase."
"Aha, I spotted it. I'll hand it down to you," Julia grabbed the suitcase and thanked Tom as he hopped
down.
"You're my hero," she said giving him a little hug. Tom's face turned bright red. She could tell that he was
completely turned on. "I better get changed," she said changing the subject.
Tom quickly complied, and scurried out
of the room to relieve himself as soon as possible.
Julia locked the door behind him smiling slightly and proceeded to
unpack her winter clothes. There was a nice thick woolen sweater in there, which she quickly donned, but no coats. "Damn,"
she said to herself, "I forgot all my coats were in the bag. They're probably still up there." Rather than trouble Tom again
and cause another awkward situation, she decided to conquer her fears and try to retrieve it herself. Fortunately, she had a
flashlight already in her room. She grabbed it and carefully proceeded up the stepladder. She was rather short, but she
could reach the ceiling from the top step without difficulty. She had a bit of trouble pulling herself up, but managed to get
one foot onto the upper wooden plank and stepped up. She sat down for a moment in the attic to catch her breath, immediately
turning on the flashlight to light the area.
The attic was creepier than she thought. It looked very dusty and
there were spider webs everywhere. She just hoped that there were no bats. She hated bats. Scanning the area with the
flashlight, she soon found the bag she was looking for in the far corner. Unfortunately, the wooden studs were much narrower
by the bag, and she would have quite a difficult walk to reach it. Mustering her courage, she carefully walked towards the
bag as if walking across a balance beam. She was only a few steps away from the bag when she heard an ear splitting screech
that sounded very much like a bat. She soon lost her balance and fell onto the soft insulator fabric that covered the sheet
rock beneath her feet. The sheet rock was not very strong, and she fell feet first through the ceiling quickly halting when
the hole could not fit her arms. She screamed, but managed to hold on to the studs. Still, she did not have the leverage to
pull herself up. The whole was rather and she couldn't seem to drop down.
"What was that?" she heard Tom say from
below.
"Um, could you give me a hand here? I fell through the ceiling and I'm stuck," she said trying to keep her
cool.
"Oh shit!" Tom said when he ran into the hallway. All he saw was Julia's little body from her exposed belly
button down to her white keds hanging from a whole in the ceiling. "What happened? Are you okay?"
"I think I'm okay,
maybe a couple scratches. Just tell me, are there any bats up here?" she said nervously.
"No, I didn't see any. Why
don't you drop down the rest of the way, you're only about 5 or 6 feet from the floor. I'll catch you."
"I'll try,"
she said letting go of the studs, she didn't budge, she was wedged in tightly, her breasts and thick sweater keeping her from
falling the rest of the way. "No, it's no use, it hurts too," she said grabbing hold of the studs again to keep the pressure
off her upper body.
"Can you pull yourself up?"
"No," she said, "Can you push me up?"
"I'll try," he
said. He noticed, upon approaching her that his head was level with her dangling feet. It was almost too perfect a
position. He knew he had to help her up, but couldn't help but take in the situation he was in for the moment. Here she was,
the girl of his dreams, completely at his mercy. Her shoelaces were just ripe for the taking. He looked up at her cute
little belly button, and noticed some black nylon sticking out of the top of her pants. "Could she be wearing pantyhose?" he
thought to himself. He had never seen Julia in nylons before, but always fantasized himself tickling her feet while wearing
them. But he knew if he did it while she was vulnerable like this, she would never forgive him, and she would probably tell
Jerry. He had to do it somehow "accidentally" if he could. He had to devise a plan. He quickly put his hands on her shoes
and brushed his fingers against her nylon-clad ankles. It was so soft and smooth. She giggled in response. Upon lifting her
pant legs a bit he saw the tightest fitting sheerest black nylons he had ever seen. They looked very expensive and shiny, and
also looked very ticklish on her soft skin. He brushed his fingers up against it again to see her response. She giggled
again and kicked her feet out.
"Stop tickling me, just push me up."
"I can't seem to get a good
grip. You're higher than I thought," this was a lie. Still, he moved his hands to the bottoms of her feet and made a fake
failed attempt to push her feet up. He could have easily pushed her at least another six inches up through the ceiling, but
that would ruin the fun too quickly. "I'll have to get a step ladder," he said. "I'll be right back. Hang on."
"Like
I have a choice," she said nervously.
Tom proceeded to his bedroom and grabbed the small stepladder from his
closet; he brought it over to the hallway.
"Tom, is that you?" she yelled down.
"Yes," he said. "I'm afraid
my stepladder's in the garage," he lied. He now knew how to put his plan into action. "Just give me a few minutes to get
it."
"Dammit," she said. "Hurry up!"
Tom made noises as if he was walking outside and even opened and
closed the front door. But instead of going outside, he sneaked back into the hallway to put his sinister plan into
motion. "Those shoelaces will have to go first," he said to himself as he stared at the tightly tied keds. He walked up to
her feet and very very carefully began untying her right shoe. He had to do it without her noticing. It was a rather slow
process, but he finally managed to get it completely untied. Still her shoe remained on her foot. He had to take the
shoelace out completely. He noticed that the shoes were a little too big for her, but with the laces on they would never slip
off on their own. But without the laces, the platform sneakers were big and heavy enough for gravity to do all the work for
him. He began the slow and arduous task of unlacing her right shoe without her noticing. This was very difficult, as he had
to somehow keep the lace from brushing against her stocking foot. Still, he had dreamed about doing this for years, and
already knew the best way to accomplish this task.
Julia was beginning to get restless. She had found a comfortable
position and was grateful that she wasn't injured in the fall, save for a small scratch on her back. But she hated waiting
here in the dark. Her flashlight was just out of reach, and she wasn't quite convinced that there were no bats in this
attic. To top things off, it felt has though her right shoe had become untied. "I'm surprised he couldn't push me up," she
thought to herself, "I don't think the ceiling's that high. I hope he doesn't take too long." After a few more seconds it
felt as though her right shoe was considerably looser. She was beginning to feel it slide off her heel. Her nylons only
made it slide off easier. "Damn these nylons," she said. "I knew I shouldn't have put them on without socks. So what if my
socks are all dirty. Still, I needed something to warm my legs up. And these shoes, why can I never find the right
size! There is no size 4 and a quarter, and of course I have to by the larger size! I hope he doesn't take my shoe off the
rest of the way, I know he has a thing for my feet, and I'm in no mood to satisfy his fetish right now." She felt the shoe
slide down further and almost lost it. She quickly pushed her foot up against her other leg and pushed the shoe back on. She
had to hold it their to keep her shoe from dropping off completely. "This is all that I need now. My shoe better not fall
off. If he tickles my feet in these nylons, I'm going to flip out."
Tom quickly withdrew her hands when she moved
her foot to save her shoe. He only had one more tug to get the shoelace out completely. He new that if she just let her foot
hang her shoe would drop off. She obviously did not want that to happen. Still, he managed to give the lace one more tug,
and it was free of her shoe. He then proceeds to her left shoe. And as before, he slowly and carefully removed the
shoelace.
"What the hell's going on with my shoes?" Julia thought to herself as she felt her left shoe slide off this
time. What are these, the weakest laces on earth? What, they can't even hold on to my feet for a few minutes when they're
off the ground? I'm definitely getting new shoes when I get out of here, if he ever makes it back. What's taking him so
long?" Her left shoe once again nearly slid completely off of her foot. She immediately pushed her feet together at the
soles to keep them on her feet. It was a rather uncomfortable and unlady-like position, but she wasn't about to let her shoes
drop off while she was in this very vulnerable position.
Tom had finished removing the other shoelace. He stared at
her very soft and vulnerable feet in the extremely loose keds in awe and quickly pocketed the laces. He still had one more
part of his plan to execute. Climbing up the stepladder, he stood face to face with Julia's little tummy. He resisted the
urge to tickle her belly button. He very carefully unbuttoned her pants and pulled the zipper down. This was even more
difficult than the shoelaces as it was closer to her head. He managed to do it without being caught, however. Now, her pants
hung loosely at her waste. They weren't ready to drop off as her legs were open above the knees, but they were clearly not
holding on by much. Tom decided he had done enough and quietly stepped off the ladder. He sneaked back to the front and
opened and closed it again, and walked loudly back into the hallway.
"Tom, is that you?" she asked nervously.

"Yes," he said. "I got the stepladder, I just be able to push you up by your feet now."
Julia suddenly became
nervous. "Before you touch my feet, can you tie my shoes? They came undone and they feel like they're about to fall
off."
"Why don't you just let them fall and get them later?"
"I don't want to walk around this attic in
just my pantyhose," she said. Her face began to turn red. "And my feet are very ticklish, I really don't think I want you to
touch them without my shoes on. It wouldn't be … appropriate."
"Okay," he said trying to suppress his
excitement. "Where are your shoelaces?"
"Haha, very funny," she said sarcastically.
"I'm not kidding, where are
they?"
"In my shoes, silly."
"Oh, they are?" he asked as he thrust his fingers into her loose shoes feeling
around for the laces, but mainly tickling the nylon clad arch of her foot. She began giggling hysterically.

"heeheehee… St… Stop it! You're tick… hahhaha!"
Her laughter was very high pitched and adorable, Tom didn't want to
stop, but forced himself to. Her soft stocking feet felt so good on his fingers. "I couldn't find them. Maybe they're in
the toe section. I'll take your shoes off and look for them," He began separating her feet and allowing the shoes to drop to
the floor.
"No let go!" she said pulling her feet back out of his grip and saving her shoes from dropping off at the last
section by returning to her previous position. "I didn't mean IN my shoes, I meant THROUGH my shoes. Through the lace holes
that is.
"Your shoes are completely unlaced. The laces are completely out of them."
"What? But how? My shoes were
tied tightly just a few minutes ago. Did you take them out?"
"No," he said quite matter of factly, "Listen, don't you
think you should get out of that attic and try to sort this out later."
"I guess so," she said suspiciously. She was
almost certain Tom was lying, but didn't want to jump to conclusions just yet.
"Okay, I'll push you up," without warning,
he grabbed hold of Julia's sneakers, and began to push her up.
"Wait, not by my sneakers!"
Tom let go of her sneakers,
but not before pulling them far off her heels. Both sneakers now dangled quite helplessly off her toes. She curled her toes
up quickly to prevent them dropping off the rest of the way. "Okay, I'll push you up by your waste."
"Wait!" Julia
said. But it was too late. Tom had put his hands on her tummy and purposely tickled her belly button before establishing his
grip. She squeaked and giggled kicking out her right foot and losing her shoe in the process.
"Whoops, looks like you
kicked your shoe off, I'll get it for you."
"No, don't bother just push me up."
But it was too late, Tom had released
his grip and retrieved her shoe. He admired her red painted toenails on her little toes through the nylon before slipping it
back on her toes but left it dangling like the left shoe which had already slipped further off her foot. "Okay, I'll push you
up." He grabbed hold of the bottoms of her feet this time without the protection of her shoes and tickled her soles with his
pinky before pushing her up some more. She laughed even harder than before and wiggled her toes. Both shoes dropped off her
feet completely this time and she was laughing so uncontrollably that she missed her chance to pull herself up.
"Stop
tickling me! I can't pull myself up when you tickle me."
"Do you want me to put your shoes back on?"
"No, forget my
shoes. Just don't touch my feet anymore, okay? Grab my legs or something."
"Okay, but my grip won't be as good
from there."
"Whatever. Just whatever you do, DON'T TOUCH MY FEET!"
"Okay," he said grabbing her
shins. What she didn't notice was that every time he pushed her up her pants slipped down a bit further. He noticed now that
she wasn't wearing any panties! It was too good to be true. As he grabbed her legs he pulled her pants down a bit further to
get a good view of her nylon clad pussy.
"Wait a minute! What are you doing? Now my pants are falling down! PULL MY
PANTS BACK UP THIS INSTANT THOMAS!"
"You're pants? I'm afraid that's a bit too high for this step ladder, I'll have to
get a bigger one, I'll be right back."
"No! Don't you dare leave me here again like this!"
But it was too late,
not only had Tom already left the house, but he also managed to give her pants one more devastating little tug that allowed
them to drop off the rest of the way. She dangled their naked from her tummy down clad in only tight sheer black
pantyhose. She kicked angrily and finally felt herself slipping down further. She was nearly free. She put her hands over
her head and felt her self slide through the hole, which had widened thanks to her ticklish wiggling. Her fall was not
without problems, her bra got caught on the way down and she fell out of both it and her sweater. When she landed on the
floor she was wearing nothing but her pantyhose. She shivered and looked angrily at her empty jeans and unlaced sneakers on
the floor. She ran to her room to get dressed but cried in despair when she found it locked. All she had to wear was a pear
of bell-bottom jeans and unlaced sneakers. She quickly pulled them on to get warm. She climbed the ladder to get her
shirt. Her bra was useless now, as it was torn. She quickly pulled her sweater back on and headed towards the door to find
Tom and make him pay. When she opened the door she was dismayed to see that the ground was covered with snow. In order to
reach the garage she had to trek through the snow in her extremely loose sneakers.
What is she do?
Fetische sind eine normale und gesunde Art der sexuellen Ausrichtung. Es gibt viele verschiedene Arten von Fetischen, darunter Schuh- und Fußfetische. Diese Art von Fetischen können für Menschen sehr erregend sein und bieten eine Möglichkeit, ihre Sexualität auf eine neue und aufregende Weise zu entdecken.
Es gibt eine große Community von Menschen, die Schuh- und Fußfetische haben und sie leben oft ihre Fantasien und Wünsche durch verschiedene Formen von BDSM aus. Eine Möglichkeit, dies zu tun, ist durch das Tragen von High Heels und anderen besonderen Schuhen. Viele Menschen finden es erotisch, ihren Partner in High Heels zu sehen und das Gefühl von ihnen auf ihrer Haut zu spüren.
Diese Sammlung von von Lesern eingereichten wahren Geschichten, tatsächlichen Erfahrungen und Fiktionen zum Thema Fetisch, insbesondere Schuhfetisch und Fußfetisch, bietet einen Einblick in diese Welt. Es gibt Geschichten über Menschen, die ihre Fantasien und Wünsche leben, aber auch über Menschen, die mit ihren Fetischen zu kämpfen haben.
Es ist wichtig zu betonen, dass die Geschichten in dieser Sammlung von Menschen mit unterschiedlichen Erfahrungen und Perspektiven stammen. Einige von ihnen sind wahr, während andere fiktiv sind. Trotzdem können sie alle einen Einblick in die Welt des Fetischismus und insbesondere des Schuh- und Fußfetischismus geben.
Es ist wichtig, diese Geschichten zu respektieren und zu verstehen, dass jeder Mensch einzigartig ist und unterschiedliche Vorlieben und Interessen hat. Solange die Handlungen im gegenseitigen Einverständnis und mit Einhaltung der Grenzen erfolgen, ist es wichtig, die sexuellen Vorlieben und Wünsche anderer zu respektieren.