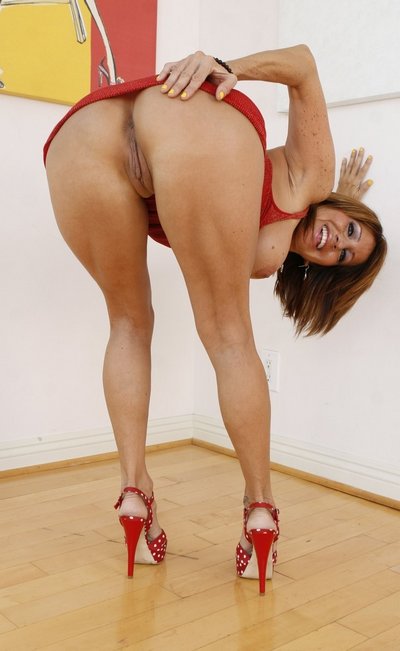 Ruth Rudolf sat in the front passenger seat of the car with her right leg crossed over her
left knee. Her dark wool pin striped skirt ended just above her knee. The top of her
spiked heel black kidskin boot ended just below her knee. Afternoon sunlight reflected
off of the white three-day-old December snow streamed through the windshield. The
nude stocking covering her knee glistened in the flood of light. Standing in her tight
boots for the last few hours made Ruth's feet very hot and achy. Ruth was rotating her
ankle and toying with the zipper of her boot with the French manicured nail of her left
index finger. She pulled the zipper down a few inches and felt the moist warmth of her
stocking covered leg. Pulling the zipper up she rubbed her hand over her knee and
enjoyed the sensual smoothness of her stocking.

"Do you mind if I take my boots off?" Ruth asked the driver.

"Not at all" the driver replied.

Without waiting a moment Ruth unzipped her boot and pulled it off her right foot. She
gave her moist stocking foot some gentle attention then uncrossed her leg and unzipped
her left boot. Using the toes of her right foot she pushed her left boot entirely off onto the
floorboards. Wildly wriggling her toes she reclined her seat slightly. After a few more
seconds she put both of her feet on the dashboard and raised her sunglasses to inspect her
stocking feet in the sun.Dirk Bovine was a truck driver who really appreciated stocking feet. Many times as he
drove his Peterbilt down the highway he would notice women driving in their stocking
feet or have their feet on the dashboard. He saw Ruth put her stocking feet on the dash
and was enraptured with the beauty and view he had of her feet. His distraction was
costly, though. Dirk sped up to maintain his view but he did not notice the lane
narrowing. The front right wheel of his truck rode up on a guardrail and his truck flipped
on it side.Stunned but uninjured Dirk climbed out of his cab.. He saw Ruth standing in the road in
her exquisite stocking feet directing a man with a camera to take pictures of the truck and
the good Samaritans rushing to Dirks aid.Seeing that Dirk was OK and that no other vehicles were involved in the crash Ruth
told
the photographer to take pictures of the frozen turkeys and perishable food goods that
were strewn on the highway. She realized that the pictures would only tell half of the
story so she ran to Dirk in her stocking feet to interview him. Ruth felt Dirk was really
depressed because he never looked up from the ground as he spoke. It was as if he were
trying to memorize every detail of her cold soiled stocking feet.


Ruth stepped away from the afternoon Christmas party to her desk so she could search
the Internet. She wanted to fly home and be with her family for Christmas. At her desk
Ruth removed her red Santa hat and unzipped the red ankle boots. With her boots
loosened for comfort she rotated her ankles day to cool her hot feet. For some reason she
was reminded of the events of the previous week. Those events really helped Ruth's
career and reputation as a reporter. She and a staff photographer were returning from a
winter carnival when the truck accident happened. The winter carnival article would
have been a puff piece buried in the middle of the paper but the truck accident was front
page. That front page story then turned into a human interest series about Sister Margo's
homeless mission. Dirk's truck was carrying all the food for Sister Margo's mission.
Between Ruth's stories and Sister Margo selling her beloved electric guitar Christmas
was saved at the mission accept for Sister's concert. Ruth also wanted to find a guitar.
As Ruth typed on her computer she stretched her legs out and crossed her right ankle over
her left ankle. Before long she had worked the heel of her right foot out of its boot and
the red ankle boot flopped loosely on a green stocking covered foot. There was success.
Ruth found a guitar for sale and arranged to pick it up from the owner on Christmas Eve.
There was also a flight on Christmas Eve that left in at the perfect time. She could pick
up the guitar surprise Sister Margo, and make her flight without being in a rush. Ruth's
boot flopped off of her foot as she leaned back in satisfaction. Uncrossing her ankles she
put the heel of her stocking foot on the ground and pushed her stocking toes into the heel
of her left boot. Her attempts to push off her boot were foiled by her slippery stockings
and smooth leather. Sliding her chair forward and pulling her left foot over her right
knee she grabbed her boot. Suddenly she heard her boss's voice behind her.Startled she quickly zipped up her boot and felt a
compulsion to put on her other boot.
Turning behind her to acknowledge her boss see stretched her stocking foot out in search
of her boot. Soon she realized that her boot was entangled in the maze of wires under
her desk and that there was no graceful way to retrieve it. At that moment her big toe
brushed against the switch on the power strip and her computer went dead. Ruth's boss
asked her to follow him into his office. Reluctantly Ruth followed her boss to his office
walking with one red boot and the tip toe of her stocking foot.Sitting in front of her boss's desk Ruth crossed her right leg
over her left knee. Gently
rocking her leg and wagging her bootless foot she listened to her boss. It was horrible
news.

Ruth pleaded to no avail. She even stood up and emphatically stomped her
stocking foot on floor to no effect.Ruth sat down at her desk unzipped her left boot pulled off her foot and flung it onto the
floor under her desk in frustration. All her Christmas plans had to be cancelled. At least
her clumsy big toe shut off her computer earlier before she paid for her non-refundable
ticket she thought. Rubbing her left foot Ruth sulked at her desk.Her new notoriety and the fact that no one else with as
little seniority as Ruth was
available meant she would have to attend the Heiress's Christmas Ball. Ever since her
debut five years ago Roma Janet, the only daughter of Hugh Janet the multimedia
billionaire would throw a Christmas party. The parties were legendary and Ruth had
always thought the balls were a spoiled, high-society self promotion. Money that could help
people like Sister Margo was wasted on frivolous indulgences. Now Ruth would be
wasting her time covering this ball for her newspaper. Since she would be working, her
boss said she could expense a new designer outfit for the occasion. It was a consolation
meant to take the sting out of the assignment. Resigned to her fate Ruth decided to return
to the company celebration. She put on her hat but left her boots under her desk.
In the dressing room Ruth studied herself in the mirror. She turned to the side and
exposed her shapely stocking leg through the slit in her gown. Lifting her heel off the
floor and bending her knee she pushed her reinforced stocking covered toes into the thin
carpet. This was definitely the gown. She thought the gown might be a touch long but
then again she was in her stocking feet. It was nothing a pair of four inch heels couldn't
fix. The super market pantyhose looked extremely cheap against the gown. New hosiery
was in order too.It was a frustrating day.

Ruth tried to rearrange the purchase of the guitar but could not
do it. She also could not get a flight on Christmas day. Now she was running late for the
party. Finally heading out the door Ruth paused to pull off her painful right high heeled
pump off her foot. She checked inside the shoe the looked at her stocking foot as she
wiggled her toes. Deciding to give her right foot a break she scurried down the hallway to
the elevator only wearing one shoe. Pushing the elevator down button she shifted all her
weight to her stocking foot while she watched the elevator lights. As the elevator
approached she dropped her shoe to the floor to slip into it. Ruth's foot was still
fidgeting with her pump as the elevator door opened revealing a small crowd. A man
held the elevator door open for what Ruth felt was an eternity. It seemed as if everyone
was staring at her foot. Getting the shoe three quarters of the way on her she decide to
step into the elevator but her high heel got caught in the crack between the elevator and
floor. Ruth fell into the arms of a strange man and the elevator doors closed on her
empty shoe. Again the elevator was delayed as Ruth retrieved her shoe. Ruth elected to
hold her shoe as the elevator began its decent.Smiling at all the people on the elevator Ruth said "New shoe, I'll probably
kick it off
under the table anyway."
Still only wearing only one shoe Ruth walked through the parking garage to her car. The
cold cement was refreshing to her shoeless foot. Opening her car door she tossed her
shoe and evening purse on the passenger seat. Pushing the accelerator with her stocking
toes Ruth started her car and headed towards the party. As she drove she almost forgot
she was only wearing one shoe.The valet opened the door of Ruth's car and saw a tremendously beautiful woman in an
exquisite gown. Giving the woman his hand, Ruth stepped out of the car forgetting about
her shoe. The valet was a little surprised to the woman wearing only one shoe. When
Ruth's stocking covered toes touched the cold clammy ground. She realized she was
missing her shoe. The valet watched with enjoyment as Ruth reached into the car to get
her shoe. His enjoyment grew when Ruth used his shoulder for support as she pulled on
her pump.



Being true to her words in the elevator Ruth kicked off her painful pump under the table
after an excruciatingly long cocktail hour. Surprisingly the dinner had an invocation that
caught Ruth completely off guard. Rising quickly without having a chance to slip into
her shoe Ruth was thankful her long gown hid her stocking foot. Once seated again Ruth
could not find her shoe with her foot. As her stocking foot furtively felt for her shoe a
quiet panic was beginning to slowly build. Subtly she dropped one of the many pieces of
silverware at her place onto the floor so she had an excuse to peer under the table.
Immediately Ruth saw her shoe but she also saw the senator's assistant rubbing the
senator's leg with her stocking foot. Ruth filed that in the back of her mind for the future
as she grabbed the tiny little spoon and her pump.Ruth spent the rest of the dinner with her stocking feet on top of her high
heels. She
slipped her shoes on without incident as she left to go to the bathroom. The bathroom in
the mansion was bigger than her kitchen with a marble tiled floor and gold fixtures. Ruth
both enjoyed and despised the opulence at the same time. What a waste of money but
what enjoyable luxury. Slipping out of her shoe Ruth felt the cool glass smoothness of
the floor with her stocking foot. Finishing washing her hands Ruth slipped back into her
shoe and examined her feet to make sure no toilet paper was stuck to her shoe.Instead of heading back to the party, Ruth
decided to give herself a tour of the mansion.
Tip toeing down a hallway saw a door ajar. Peeking into the room Ruth saw nothing but
smelled cigarette smoke. Suddenly the door opened and Roma Janet was standing there
in her stocking feet smoking a cigarette.Roma recognized Ruth as the reporter that had written the articles about Sister
Margo's
mission and invited Ruth into the room to talk. The room was a simple sitting room
where Roma came to smoke, as she never wanted to be seen in public smoking. Ruth
noticed Roma's empty Manolo Blahniks carelessly lying on the floor. Roma admitted
they were killing her feet. Ruth complained about her shoes too and Roma suggested she
remove them. The two stocking footed women sat down to talk. Through the windows
of the room snowflakes could be seen to be falling. Roma was not the immature self-
absorbed person Ruth imagined her to be. Still Ruth challenged her on the frivolousness
of her party. Roma explained that she established philanthropic organizations that
contribute to causes all year round. There was plenty of charity in December but there
are the winter months of January and February too. Roma then explained that Christmas
was special time when everyone's heart is opened and good cheer just opens people's
hearts more. "Don't under estimate frivolity." Roma said.
Ruth just stared at her stocking feet. Charity is needed all the time and happy hearts
cause charity. Ruth understood more about Christmas than she ever did before. By the
time the women were ready to put on their shoes and rejoin the party Roma had arranged
for her private jet to fly Ruth home and she also, arranged for a guitar to be delivered to
Sister Margo. Ruth and Roma considered each other friends. Going to the Christmas
Ball was the best thing Ruth could have done on Christmas Eve.

Fetische sind eine normale und gesunde Art der sexuellen Ausrichtung. Es gibt viele verschiedene Arten von Fetischen, darunter Schuh- und Fußfetische. Diese Art von Fetischen können für Menschen sehr erregend sein und bieten eine Möglichkeit, ihre Sexualität auf eine neue und aufregende Weise zu entdecken.
Es gibt eine große Community von Menschen, die Schuh- und Fußfetische haben und sie leben oft ihre Fantasien und Wünsche durch verschiedene Formen von BDSM aus. Eine Möglichkeit, dies zu tun, ist durch das Tragen von High Heels und anderen besonderen Schuhen. Viele Menschen finden es erotisch, ihren Partner in High Heels zu sehen und das Gefühl von ihnen auf ihrer Haut zu spüren.
Diese Sammlung von von Lesern eingereichten wahren Geschichten, tatsächlichen Erfahrungen und Fiktionen zum Thema Fetisch, insbesondere Schuhfetisch und Fußfetisch, bietet einen Einblick in diese Welt. Es gibt Geschichten über Menschen, die ihre Fantasien und Wünsche leben, aber auch über Menschen, die mit ihren Fetischen zu kämpfen haben.
Es ist wichtig zu betonen, dass die Geschichten in dieser Sammlung von Menschen mit unterschiedlichen Erfahrungen und Perspektiven stammen. Einige von ihnen sind wahr, während andere fiktiv sind. Trotzdem können sie alle einen Einblick in die Welt des Fetischismus und insbesondere des Schuh- und Fußfetischismus geben.
Es ist wichtig, diese Geschichten zu respektieren und zu verstehen, dass jeder Mensch einzigartig ist und unterschiedliche Vorlieben und Interessen hat. Solange die Handlungen im gegenseitigen Einverständnis und mit Einhaltung der Grenzen erfolgen, ist es wichtig, die sexuellen Vorlieben und Wünsche anderer zu respektieren.